Op-ed by Dr. Shimon Samuels published in The Jerusalem Post
4 October 2018
https://www.jpost.com/Opinion/From-New-York-to-Paris-Antisemitism-at-UNESCO-568691
Some countries at UNESCO will pull every lever to humiliate and demean the Jewish state. Or perhaps not!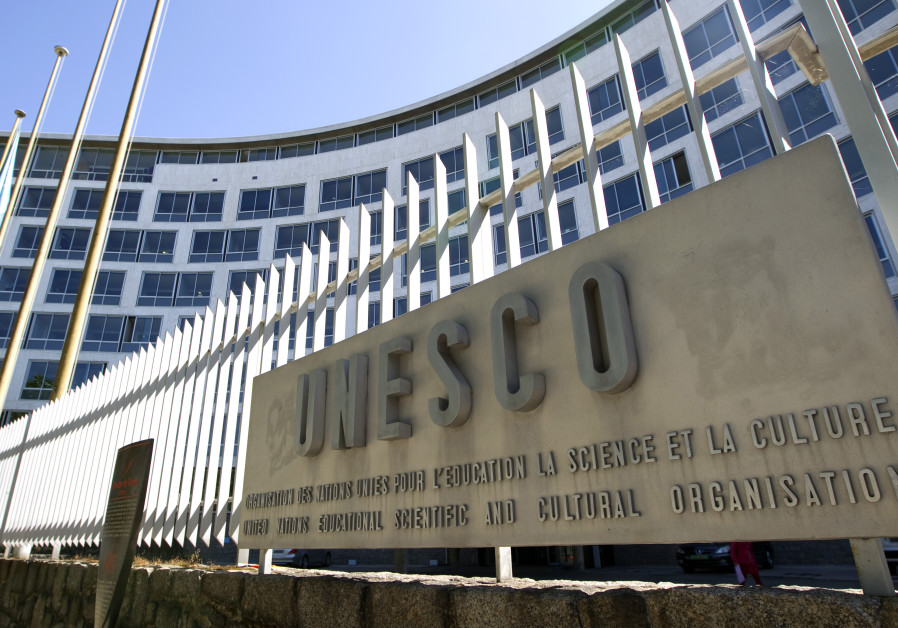 A general view of the UNESCO headquarters in Paris (photo Reuters).
This week, 58 of the 195 member-States of UNESCO convened for two weeks as its 205th biennial Executive Board. They will consider reports on budgets, programs, failures and achievements. They will barter, horse-trade within and beyond their regional blocs.
Some will be intimidated, others will market their votes for supporting electoral candidates across the UN system. But above all, they will pull every lever to humiliate and demean the Jewish state.
The Simon Wiesenthal Center in 1992 organized UNESCO's first ever international conference on "Containing Antisemitism." In 1993, then director-general Federico Mayor – so proud of his Jewish antecedents – came to Los Angeles to open the center's Museum of Tolerance.
In 2003, his successor, Koichiro Matsuura, opened the second conference on "Containing Antisemitism" at its Paris headquarters and visited the museum a few months later.
In 2012, director-general Irina Bokova followed in their footsteps in a very different atmosphere. "Palestine" had entered UNESCO in November 2011 with a voracious appetite for mayhem.
The Simon Wiesenthal Center, in its capacity as "associate partner" to UNESCO, fought the gathering storm through its exhibition, "People, Book, Land: The 3,500 Year Relationship of the Jewish People with the Holy Land." Postponed, vetted, canceled, it finally opened at UNESCO with huge Jewish and gentile support in 2014.
Thus had begun a theft campaign of the Jewish heritage to validate "Palestine," and more resolutions to demonize Israel than – among the voting states – Iran, Iraq, Myanmar, Venezuela and Zimbabwe all combined together. These have led to a remorseless antisemitic politicization of UNESCO.
The current director-general, Audrey Azoulay, deserves plaudits for her intent to depoliticize this UN agency. Her opening of a symposium on educating against antisemitism last week, at UN headquarters in New York – the city with the largest Jewish population in the world – was a courageous challenge.
Her attempts to postpone votes on antisemitic resolutions, such as those that call for the "de-Judaization" of the Temple Mount in Jerusalem, the Cave of the Patriarchs in Hebron and even the Western Wall, are tactical measures, but not a strategy to cure UNESCO of its antisemitism disease.
From UN headquarters in New York, the perpetrators have now returned to UNESCO headquarters in Paris.
We count on the director-general to keep the spirit of her symposium to combat antisemitism. She must use her authority to approach decision-makers and, as minimum, demand balance: the Temple Mount must always accompany its Muslim name of "Haram al-Sharif" (The Noble Sanctuary), the Western Wall of the Temple always acknowledged as Jewish – a balance that would be welcomed in the optics of other conflicts.
This will require an in-house education in 3,500 years of Jewish history.
An understanding that "postponement" of antisemitic resolutions is only tactical. They should never even be tabled.
The day that Azoulay was inaugurated, I left the ceremony with some 15 Ambassadors and UNESCO officials. Number 3 in the hierarchy ran after me. In earshot of his colleagues, he shouted: "Shimon, are you now happy to have your Jew as director-general?"
I told him, "We are delighted that we will have an accomplished [director-general]."
"Ah, yes," he responded, "but you can no longer call us antisemites and can continue to kill children!"
The listeners stood in embarrassed suspended animation. They now understood what is antisemitism.
The author is Permanent Observer of the Simon Wiesenthal Centre to UNESCO.