Buenos Aires, 20 March 2017
"People, Book, Land: The 3,500 Year Relationship of the Jewish People with the Holy Land" is co-sponsored with UNESCO. After its launch in Paris, it went on to UN Headquarters in New York, US Congress, the Israeli Knesset, the Vatican, Copenhagen Town Hall, the New Delhi Gandhi Centre and the British Parliament.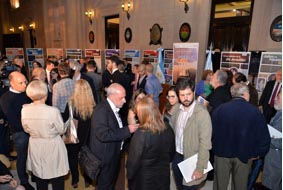 Opened this week in the CCK Presidential Cultural Centre in Buenos Aires, Associate Dean Rabbi Abraham Cooper welcomed the diplomatic representatives of the Exhibition sponsors: Canada, Israel, Paraguay, Poland, United Kingdom and United States, as also those of Azerbaijan, the Holy See, India, Russia, Austria, Chile and Uruguay.
The opening was held under the patronage of the Argentine President, represented by Foreign Minister Susana Malcorra and Media Minister Hernan Lombardi.
A large Israeli delegation led by Foreign Ministry Director General, Yuval Rotem, was present for the commemoration of the 1992 Buenos Aires Israeli Embassy terrorist attack that killed 29 and maimed both Israeli and Argentine citizens.
Dr. Graciela Vaserman Samuels, as Advisor to UNESCO Director-General, Irina Bokova, read her message emphasizing: "…the cultural heritage of Jerusalem as the holy city of all three monotheistic religions… The exhibition… explores the deep, unassailable connection between the Jewish people and the Holy Land… a profound relationship that has helped shape the history of all humanity… It is a response to all those who seek to spread lies to fuel antisemitism, including a persistent delegitimization of Israel and the Jewish people."
Dr. Ariel Gelblung, the Centre's Latin American Representative, argued that "denying 3,500 years of Jewish presence in the Holy Land is a form of antisemitism."
The Centre's Director for International Relations, Dr. Shimon Samuels, presented the Foreign Minister with a 1st century Judean Lamp "to illuminate her path in confronting diplomatic challenges ahead."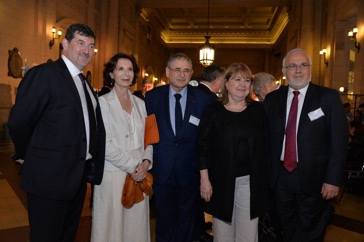 Dr. Gelblung, Dr. Vaserman Samuels, Dr. Samuels, FM Malcorra, Rabbi Cooper
The Wiesenthal Centre attended the Embassy bombing memorials and congratulated the Argentine Congress for its passage of a draft law to permit a trial in absentia of the INTERPOL indicted Iranian and Hezbollah perpetrators.
Samuels repeated the warning of murdered Prosecutor, Alberto Nisman, that "since 1992, until the present, Hezbollah cells remain in Argentina and across Latin America."
Rabbi Cooper concluded, "this week, we have experienced both joy and sorrow: our Exhibition in Buenos Aires and mourning with the families of victims and survivors of Teheran's terror… Commemoration and celebration are constants in Jewish life and, very much, the agenda of the Simon Wiesenthal Centre."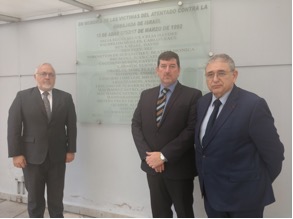 At the Israeli Bombing Victims Memorial in AMIA building, Rabbi Cooper, Dr. Gelblung, Dr. Samuels