"The Netherlands is not that of Anne Frank, but minus the Arab Keffiye the Assailant and the Police Bystanders brought back images of the Storm Trooper"
Brussels, 8 December 2017
At a meeting of the European Parliament, the Assembly of the European Jewish Parliament (EJP) met to celebrate the United States' "Jerusalem Declaration" acknowledging the 3,000 year capital of Israel and the Jewish people.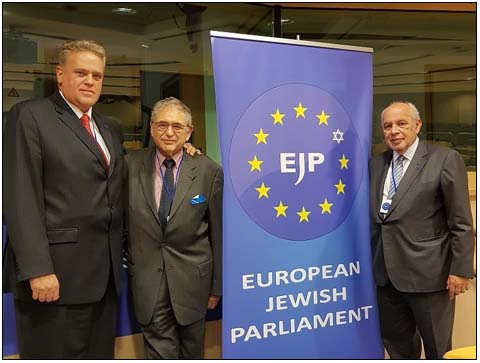 Left to right: Marco Katz, Romanian Antisemitism Monitoring Centre; Shimon Samuels; Cefi Kamhi, Turkish MP and Deputy Chair of the EJP.
MEJPs (Members of the European Jewish Parliament) from the member-states of the European Union commended the EU's move to adopt the International Holocaust Remembrance Alliance (IHRA) Definition of Antisemitism.
Nevertheless, MEJPs sadly noted the division drawn by many EU officials between antisemitic acts in Europe and hatred for Israel, as also their condemnation of President Trump's position on Jerusalem.
Simon Wiesenthal Centre's Director for International Relations and Member of the European Jewish Parliament, Dr. Shimon Samuels, noted reactions to the attack on the Amsterdam kosher restaurant, by a keffiye-headress wrapped bearer of a Palestinian flag – screaming "Allahu Akbar", that took place during the EJP session.
"This terrorist incident was proof positive that anti-Israelism, anti-Zionism and antisemitism are one and the same – Jew Hatred Pure and Simple," claimed Samuels, continuing: "Youtube video portrays Dutch police as bystanders throughout the assailant's forced entry, only intervening after he exited… Apparently employees inside the restaurant were miraculously unattacked while law enforcement waited passively on the outside."
The Wiesenthal Centre expressed outrage at the new government coalition's left-wing party Democrats 66 spokesman, who blamed the assault on Trump.
"The late Simon Wiesenthal spoke often of Dutch World War II resistance. Yet today's Netherlands is not that of Anne Frank. Watching the amateur film clip of police bystanders and broken glass brought back the images of the Storm Trooper," concluded Samuels.