Paris, 16 May 2023
Egypt has just been correctly thanked for its role in persuading a bunch of terrorists with missiles attacking Israel, to cease their fire until the next time.
The Wiesenthal Centre annually, however, in its measures of Jew-hatred at six Arab Book Fairs, always finds the leading antisemitic publishers to be Egyptian. The most sold are based on Henry Ford's "The International Jew", the Tsarist Russian forgery of the "Protocols of the Elders of Zion" and Hitler's "Mein Kampf".
"Once again, at the 2023 Cairo International Book Fair (CIBF), was a plethora of Egyptian publishers of hate (Dar Al Kitab, Dar Al Khaloud, Dar Al Hayat, First Book Publishing, Dar Al Nadaa, UM Publishing, Dar Pharos...)," stated the Centre's Director for International Relations, Dr Shimon Samuels.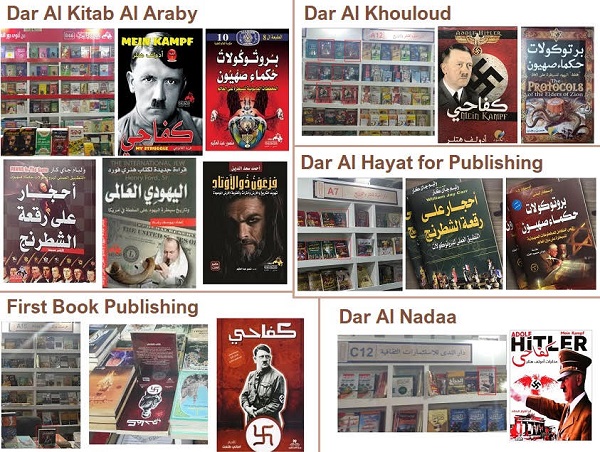 Antisemitism is now rife also through social media. As an example, by Egyptian journalist Refaat Rashad, in an Al Arabiya website article on a latest "Cleopatra" Netflix documentary.
On 9 May, leading Arab media news network, Al Arabiya (owned by the Saudi MBC group) published Rashad's article online, entitled "Cleopatra....Not The Last". Rashad is former editor-in-chief of Akher Saa, now editor-in-chief of a newly launched newspaper, Hurriyet (Freedoms).
After accusing Hollywood of "distorting facts," his article launches into a tirade against the Jews:
"The Jews invented propaganda and media and invented the psychological effect of these satanic mechanisms through which people's minds can be controlled and people can be made obedient tools in the hands of the Jews. The Jews took advantage of indirect propaganda to establish their state in the land of Palestine at a time when the Russian and American propaganda legends did not appear. The world did not know Iskra – the spark of Lenin – or the media of Burns and Lippman in America, and Goebbels did not appear yet. Before all of these, Herzl and his comrades were manipulating the minds of the world, and they volunteered the English who were ruling the world at the time, and with them the countries of Europe, to implement their dream of the State of Israel.
"The Cleopatra series is only an episode in the episodes of mind-plundering by the Jews who control the media and culture in the world..."
"The controversial and debatable aspect of Cleopatra's skin colour saw some Egyptian media commentators spew disgusting anti-Black racist tropes. All forms of hate are intolerable, but Egyptian media requires more than a ceasefire...
"We call on Saudi and Egypt to condemn this hateful language online, in newspapers and on audio-visual outlets, to avert publishing articles that can provoke prejudice and violence," concluded Samuels.
* * *
For further information, contact csweurope@gmail.com