"UNESCO is becoming a tribune for the greatest antisemitic delegitimization of the Jewish people since the Holocaust."
"The Palestinian resolution against Judaism itself is no different from ISIL"s destruction of heritage, denoted by the Director-General as 'cultural cleansing'."
Istanbul, 11 July 2016
In a letter to UNESCO Director-General, Irina Bokova, the Simon Wiesenthal Centre Director for International Relations, Dr. Shimon Samuels, lamented that: "Though you have taken important steps to expand Holocaust education and contain contemporary prejudice, including antisemitism, UNESCO itself is becoming a tribune for the greatest antisemitic delegitimization of the Jewish people since the Holocaust," adding, "Since Palestine's entry in November 2011, the World Heritage Committee (WHC) has been turned into a battlefield, redefining Jewish sites as mosques and a wishlist that impugns the integrity of the WHC as a protector and preserver of heritage."
Samuels recalled how, "last year's 39th WHC in Bonn, Germany, in July 2015, witnessed the first attempt to de-Judaize the Jewish people's over two millennia presence and identity in Jerusalem," continuing, "This ID theft was then endorsed by the UNESCO Executive Board in April 2016, just as the Palestinians are now preparing to submit to this 40th WHC in Istanbul, a more intensified attack on every vestige of the Jewish presence, first in Jerusalem and then throughout the Holy Land."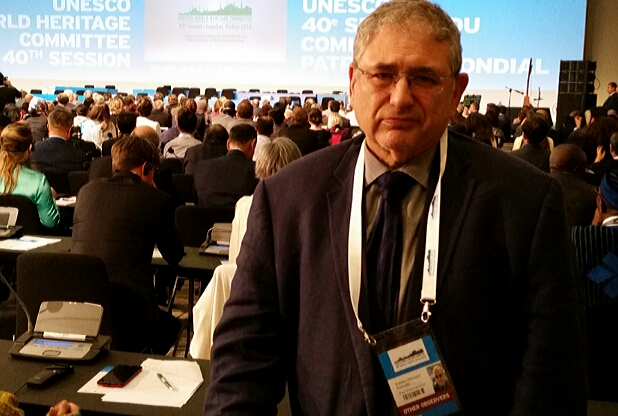 Dr. Samuels interviewed by Turkish radio at UNESCO WHC Istanbul.
The letter reminded the Director-General that "in indignation at this attrition, only last month, the European Boards of the Wiesenthal Centre, Verbe et Lumière-Vigilance and, our new partner, Yad VaShem France, ruled to remove our Russian Holocaust Laureates programme from UNESCO after an 11 year association," commending "The five member-state UNESCO delegates (Armenia, Germany, Israel, Russia, the United States) who joined us at the Paris Memorial to the Shoah and assured us of their commitment 'to resolve the situation in order to bring back the programme to UNESCO in 2017'... Similarly, France and Brazil have officially expressed their regrets for supporting this outrageous resolution. At our recent meeting with President Macri in Buenos Aires, he ordered an investigation into Argentina's incomprehensible vote."
Rabbi Marvin Hier, Dean and Founder of the Simon Wiesenthal Centre, called on the Director-General "to assert your authority to lead an initiative – together with like-minded member states as a caucus of integrity – to prevent this heinous resolution from coming to a vote based on interests that serve neither the Palestinian people nor the cause of peace and can only engender further terrorism."
Rabbi Abraham Cooper, the Centre's Associate Dean, has provided documentary evidence against the Palestinian draft (see in attachment), a publication of the Supreme Muslim Council, published annually from 1924-1953 as the official tour guide for visitors to Jerusalem. This refers to the Dome of the Rock and the Temple Mount as: "The site is one of the oldest in the world. Its sanctity dates from the earliest (perhaps from pre-historic) times. Its identity with the site of Solomon's Temple is beyond dispute. This too is the spot according to the universal belief, on which 'David built there an altar unto the Lord, and offered burnt offerings and peace offerings'."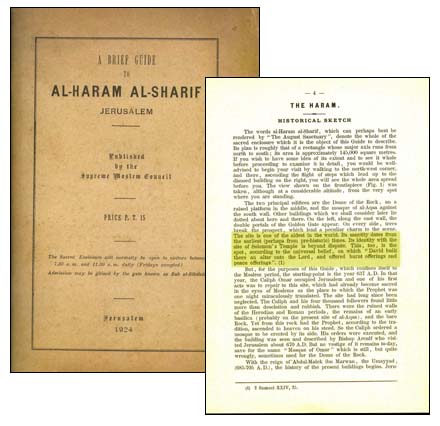 Samuels noted that the Director-General's speech at the WHC opening yesterday, described World Heritage, saying, "what is at stake here is more than adding new sites in a list. It is about reaffirming human values and human rights. It is about healing wounded memories, harnessing heritage to regain confidence."
The letter argued that "the Palestinian draft resolution violates every one of your above sentiments. Indeed, its impact upon the wounded memories of the Jewish people and Judaism itself, is no different from ISIL's destruction of heritage, which you have denoted as 'cultural cleansing'."
"The WHC Turkish Chair, Ambassador Ülker, stressed last night that 'to attack heritage is to attack history, identity and values of people...' It is doubtful that Turkey, our host, would wish for such a stain on this courageous WHC, held as a demonstration of defiance in the face of the recent terrorist atrocity, here in Istanbul...
"We are certain, however, that only under your guidance can a counter caucus redeem the name of UNESCO," concluded Samuels.