"Heritage marginalized – The fate of Nahum's Tomb" by Shimon Samuels - First published in the Jerusalem Post 8th August 2016
UNESCO's response to the Kurdistan Regional Government's appeal emphasized that the Kurdish Regional Government was not a state.
The crumbling of the 2,700-year-old tomb and synagogue of the biblical prophet Nahum may be a footnote to the seething maelstrom of today's Middle East, but it has become a football between Iraq, Kurdistan, UNESCO, Islamic State and the Chaldean Christian guardians of the site.
Located in the small town of Alqosh, Iraq, near the oil city of Mosul, in the sights of Islamic State (ISIS) terrorists a few kilometers away, it rests in the eye of a brutal, shifting sandstorm.
Outside the autonomous Kurdistan Regional Government (KRG), the area is a battleground contested between Iraqi forces, Kurdish Peshmerga irregulars and ISIS jihadists.
The KRG Ministry of Religious Affairs has a Jewish representative, whose team reported on the urgency for the tomb's preservation, as the building could completely fall apart in a few months.
He appealed to UNESCO, arguing that the site is not only Jewish, but a part of human history.
Indeed, since the departure of Kurdish Jews to Israel in the early 1950s, the tomb's guardians have been Chaldean Christian neighbors.The tomb has also been revered by Muslims and Yazidis.
UNESCO's response to the KRG's appeal emphasized that the Kurdish Regional Government was not a state.
Apparently, Nahum's Tomb also never made it to World Heritage status.
In the cross-hairs of ISIS, the synagogue and tomb would certainly be a target for what UNESCO director-general Irina Bokova has characterized as "cultural cleansing."
Some three years ago, a group of New York Jewish donors raised half a million dollars for the site's refurbishment.
Unfortunately, the transfer to a Mosul bank account reportedly got lost along the way.
Of course, the prevailing chaos does not encourage accountability and the tomb's fate, without a credible national or international effective oversight, renders dire the tomb's fate.
Salvation would require a UNESCO mission that obtains Iraqi endorsement and protection in response to the Kurdish appeal – an initiative that would mark a meaningful triumph over ISIS and would ensure that this piece of human heritage not be marginalized or "cleansed."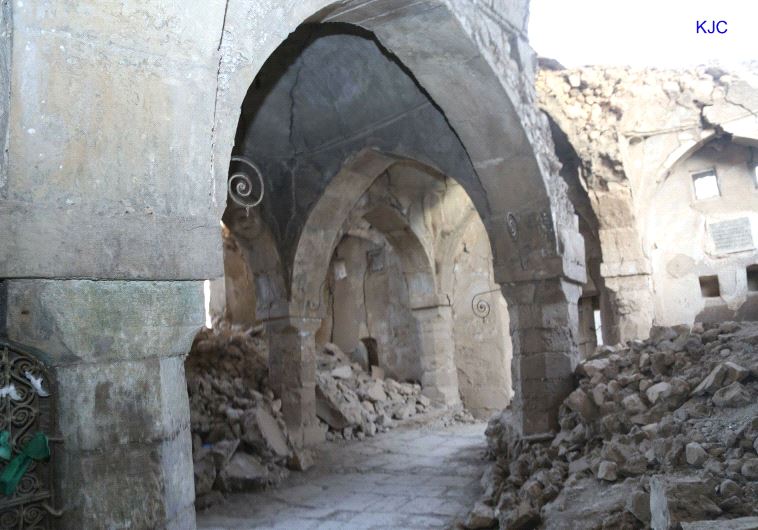 Photo by: COURTESY KURDISH JEWS AFFAIRS REPRESENTATION