Wiesenthal Centre to Kosova President: "these books are translated into Albanian, and published in Egypt by the Muslim Brotherhood"
"Kosova can not claim to combat Islamist radicalism while exposing itself to Jihadist hate".
Paris, 15 November
In a letter to Kosova President, Hashim Thaçi, the Simon Wiesenthal Centre's Director for International Relations, Dr. Shimon Samuels, protested "the sale of antisemitic hate literature - not a hundred metres from the Presidential Palace - during an Organisation for Security and Cooperation Conference (OSCE) on "Combatting Terrorism and Radicalism."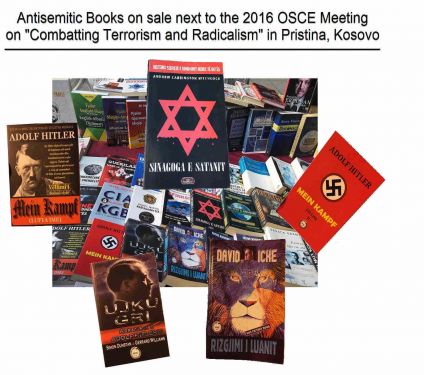 Samuels noted, "many versions of Hitler's Mien Kampf, and others which included conspiracy theories such as:- - 'The Synagogue of Satan' by Andrew Hitchcock, replete with anti-Jewish blood libels. - 'The Lion Sleeps No More' by David Icke, which portrays Jews as a reptile lizard race from outer space."
The letter added that, "these books were all translated into Albanian - Kosovo's native language and several are published in Egypt by the Muslim Brotherhood."
Samuels recalled that "two years ago, he had the honour of inaugurating the 'White Hat's Exhibition' in Pristina - dedicated to the memory of those Kosovars who smuggled Jewish fugitives from the Nazis into Albania, where most survived the Holocaust."
The letter stressed that, "Kosova can not, on the one hand claim to combat Islamist radicalism and, at the same time, expose itself to a very evident example of Jihadist penetration into a hitherto moderate Muslim country."
The Centre urged the President "to investigate, condemn and punish the importers and distributors of this hate literature", adding that, "a complaint was made to your Ministry of Internal Security over a week ago. There has been no reply."
"We are sharing this letter with the OSCE Secretary General, Lamberto Zannier, and await your response to this urgent matter", concluded Samuels.
Please find attached an answer from H.E. Mr. Hashim Thaçi, President of the Republic of Kosovo.