"United States, French and British authorities were urged to investigate Dar Al Kitab Al Arabi outlets in California, Paris and London, to ensure that the publisher's poison does not spread or foment violence overseas, threatening Jewish communities and public order."
Paris, 4 February 2019
In a letter to Egyptian Culture Minister, Inas Abdel-Dayem, the Simon Wiesenthal Centre Director for International Relations, Dr. Shimon Samuels, noted that she had opened the Cairo International Book Fair 2019 (CIBF) in the presence of Egyptian President, Abdel Fattah el-Sisi, with the Arab League as Guest of Honour. The Fair is due to close on 5 February
The Centre highlighted its annual monitoring of the CIBF, revealing the putrid Jew-hatred on the Egyptian stand (Hall 1, A38) Dar Al-Kitab Al Arabi (The Arab Book House).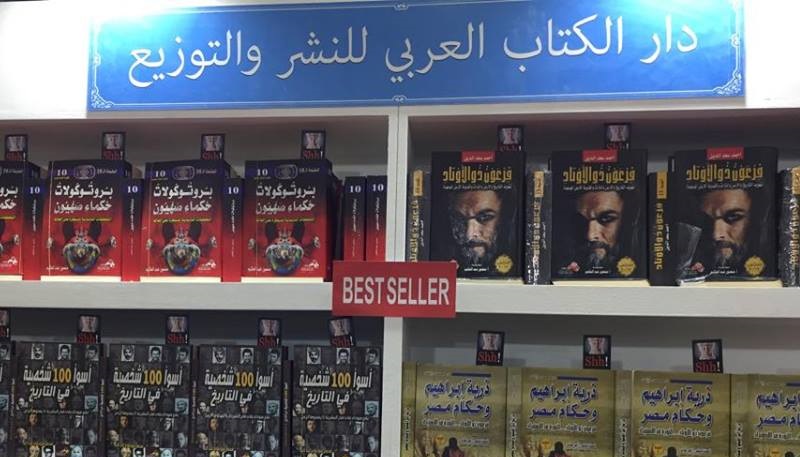 The "The Protocols of the Elders of Zion" is among the publisher's "best sellers".
"Though your office has publicly taken responsibility to vet every stand for offences against Islam, antisemitism is apparently par for the course," stated Samuels, adding, "At a time when the interests of Egypt and Israel coincide in combatting terrorism and confronting the threats of Iran, the huge array and multiple versions of the Tsarist forgery 'The Protocols of the Elders of Zion,' Henry Ford's 'International Jew' and Hitler's 'Mein Kampf', serve to incite hatred against Jews, thereby undermining President el-Sisi's operational policy."
https://www.facebook.com/darelkitabelarabi/photos/pcb.2253787468275480/2253785044942389/?type=3&theater
The letter urged the Minister, "to issue a public condemnation of antisemitism and to take appropriate measures against the continued inculcation of hatred by Dar Al Kitab Al Arabi."
The Centre has raised this matter with the United States, French and British authorities, whose publishers are heavily represented at the Fair.
"The United States, France and the United Kingdom, were urged to investigate Dar Al Kitab Al Arabi outlets, respectively in California, Paris and London, to ensure that the publisher's poison does not spread or foment violence overseas, threatening Jewish communities and public order."
https://www.facebook.com/USEmbassyCairo/photos/a.374000005157/10161526095100158/?type=3&theater
Claiming to be a French MP, a Ms. Emilia Garvey, was interviewed by ExtraNews TV, and quoted by anglophone Egypt Today (see:<http://www.egypttoday.com/Article/4/64109/French-MP-tours-Cairo-International-Book-Fair>). She praised the CIBF as "the place where we can combat extremism... Reading books is the best way to destroy and ruin terrorism." The Centre called on French Interior Minister, Christophe Castaner, to investigate this apparent usurpation of function, as also the presence of Dar Al Kitab Al Arabi outlets in Paris.
Samuels reminded British Home Secretary, Sajid Javid, how, "based on the Centre's 2016 presentation to the European Parliament, then Prime Minister David Cameron publicly announced a national ban on the import of books in Arabic or English inciting to hate, violence or terrorism." The current Home Secretary was, likewise, urged "to investigate the several such possible outlets in the United Kingdom, in view of the danger to the Jewish community and the public at large," concluded Samuels.
The letter was shared with the Director of the Frankfurt International Book Fair, Dr. Jurgen Boos.