Op-ed by Dr. Shimon Samuels published in The Jerusalem Post
29 May 2019
https://www.jpost.com/Opinion/New-European-Parliament-challenges-Israel-and-the-Jews-591062
Radical-left parties' Members of the European Parliament (MEPs) have invited and applauded speakers from Palestinian Authority President Mahmoud Abbas and spokespersons for terrorism.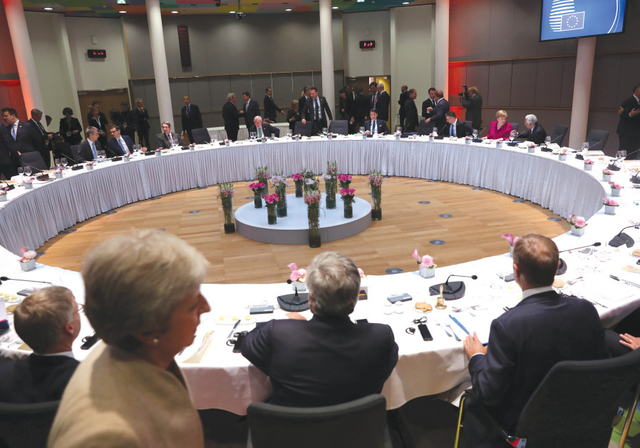 A dinner meeting at a European Union leaders summit after European Parliament elections (photo Reuters).
In May 2004, then-Polish president Aleksander Kwasniewski threw a grand party in Warsaw to celebrate the entry of eight East European countries into the European Union – the so-called "enlargement" process.
He invited eight speakers to address major challenges, among them a leader of the World Muslim Congress to speak on "Islamophobia," and myself on "antisemitism."
I was euphoric. Jews had always thrived within a supranational identity. Indeed, the only unhyphenated Yugoslavs, Czechs or Slovaks were Jews.

Many wrongly perceived "Soviet" as more protective than "Jew." "British" was simpler than "English." On that day in Warsaw, I felt that all Europeans would now share the Jewish condition as frontiers fell and most took on a common currency: the Euro.

How wrong I was!

As antisemitism flared from cocktail chatter to Molotov cocktails, and antisemitic terror spread across the Western continent, world Jewry developed a suspicion of a united EU – a concern borne out by its officials for foreign relations, Baroness Catherine Ashton and her successor Federica Mogherini.

Radical-left parties' Members of the European Parliament (MEPs) have invited and applauded speakers from Palestinian Authority President Mahmoud Abbas and spokespersons for terrorism.

On the other hand, populist/nationalist parties, such as British UKIP (now renamed the "Brexit Party")and far-right parties, especially those in government in Eastern Europe, tend to take pro-Israeli positions.

At the national level, Prime Minister Benjamin Netanyahu has enjoyed success in establishing special relationships for Israel with sub-blocs within the EU, such as the Visegrad Group – the Czech Republic, Hungary, Poland and Slovakia – the Baltic countries and Greece-Cyprus, due inter alia to hi-tech commerce, but also common strategic interests, as in the latter example against Turkey.

Israel is perceived by these countries to be an access key to the United States and its president. For anti-Russian East Europeans, Israel is also viewed – when necessary – as a back channel to the Kremlin. Blips may appear on the screen, such as the current crisis with Poland (whose ruling party sits in the European Parliament) regarding research into its wartime complicity in killing Jews.

The irony is the growth of both populist regimes from Italy to Hungary, and parties from Germany and France to Austria sharing interests with Israel.
Some express an antipathy toward the EU, bent upon homogeneity, as they yearn for "lost" national narratives in the face of a generation brought up on the Wikipedia version of history.

While the latter regard "the Jewish state" as a fossil abnormality, the populists admire Israel as the enemy of their own Islamist enemy.

At the same time, they articulate their history by rehabilitating World War II anti-Bolshevik "heroes" who happened to be Nazi collaborators in Jewish mass murder.

These European elections were revolutionary and generational, as demonstrated by baby boomers against centrist parties, and the Greens by Generation X, who are caring for radical causes. Being future-oriented, they tend to be historically uninterested, or even illiterate and caught up in the web of "intersectionality," i.e., all "victims" of war, natural catastrophe, or even disease. Whether indigenous peoples or Palestinians, all are "brothers."

The Jews, especially in the guise of "Zionists" – lumped together with capitalism, banking, media, colonialism, apartheid, etc. – are inevitably their enemy.

There is a spoiler factor in an EU under attack by Trojan horses within – from the French National Rally to the British Brexit Party to the populists of Eastern Europe.

Perhaps the MEPs will be so busy reasserting their respective narratives and redesigning the European Project that the Jewish question will be temporarily shelved.

Sadly, the greatest challenge is to believe that!

The writer is director for international relations at the Simon Wiesenthal Center.