Paris, 13 June 2019
In June 2018, the 24th anniversary of the AMIA Jewish Centre bombing, the Wiesenthal Centre co-organized, with the Henry Jackson Society and the Argentine Embassy to the UK, a Hearing at the British Parliament, in regard to the INTERPOL international "Red Notice" arrest warrants for the remaining 5 Iranians complicit in the attack that murdered 85 and left over 300 wounded.
Michael Kaplan QC, an expert on extradition, presented the case for British detention of these suspects – still active in the Tehran regime – pending an immediate Argentine request for extradition, should they step foot on British soil.
The Wiesenthal Centre is negotiating to repeat such a Hearing at the French National Assembly.
The Argentine Foreign Ministry called on its Embassies in 30 countries to hold commemorations. The Simon Wiesenthal Centre - Europe participated on 11 June in Paris and on 12 June in London.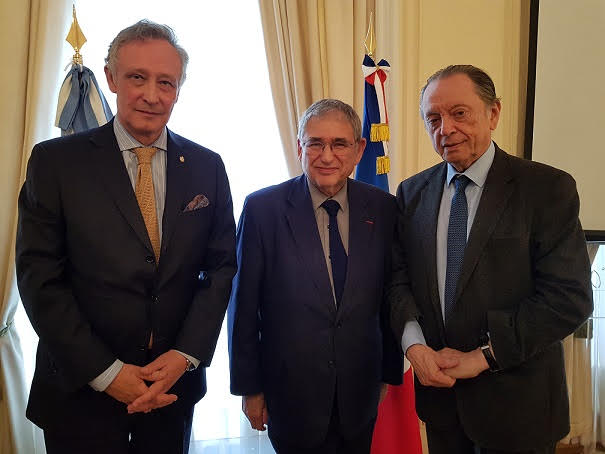 In Paris: Shimon Samuels with Argentine Ambassador to France, H.E. Mario Raúl Verón Guerra,
and Permanent Delegate to UNESCO, H.E. Ambassador Rodolfo Terragno.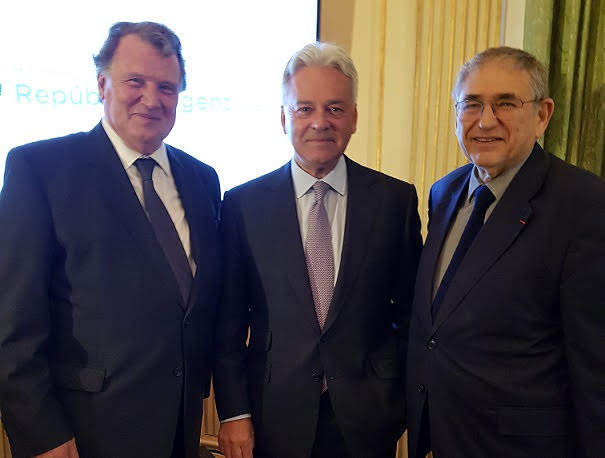 In London: Shimon Samuels with Argentine Ambassador to the United Kingdom,
H.E. Renato Carlos Sersale di Cerisano, and Sir Alan Duncan, Minister of State for Europe
and the Americas, British Foreign and Commonwealth Office.
Twelve years before the AMIA bombing, was the 1980 terrorist attack against the Rue Copernic synagogue, in Paris, which then Prime Minister, Raymond Barre, characterized as: "this odious bombing wanted to strike Jews... and it hit innocent French people..." It is shattering to learn of journalists covering the AMIA commemorations stating: "Among the 85 killed and 300 wounded were many 'innocents,'" i.e. non-Jews.
Samuels noted "the heartening United Kingdom ban on the Iranian-controlled military and political wings of the terrorist Hezbollah," and urged "all other 46 member-states of the Council of Europe to follow suit," adding, "The discovery, only three years ago, by British counter-terrorism agents – with assistance from Israel – of a Hezbollah arms and explosives cache in North London, should be an alarm for every country in Europe."
"The report of AMIA Investigator-Prosecutor, Alberto Nisman, assassinated the morning before presenting his findings to the Argentine Congress, had exposed the presence of 90 Hezbollah sleepers in Argentine and cells in 8 other countries across South America and the Caribbean."
"The two worst atrocities against Jews in Latin America – the 1992 bombing of the Israeli Embassy, with 29 dead and over 150 wounded, and the 1994 attack on the AMIA – were both perpetrated by Hezbollah, controlled from Tehran..."
"The Centre will encourage the 35 member-states Organization of American States (OAS) to follow its historic adoption of the IHRA (International Holocaust Remembrance Alliance) Definition of Antisemitism, by a ban on Hezbollah throughout the Americas," declared Samuels.
"Commemoration is a tool for education, but the families of the victims and the wounded deserve justice," concluded the Centre.