Paris, 1 August 2019
The European Coalition of Cities Against Racism (ECCAR) President, Benedetto Zacchiroli, took immediate action based on the protest of Wiesenthal Centre Director for International Relations, Dr. Shimon Samuels, and the latter's call for the expulsion of a notorious antisemitic member of the Montpellier Town Council.
Zacchiroli wrote to Mayor Saurel of Montpellier, one of the 158 member cities of ECCAR, offering support for measures against councillor Djamel Boumaaz for his widely reported neo-Nazi behaviour and hatemongering.
"As Boumaaz is part of the minority elected," [originally a member of the far-right Front National Party] ... "the Mayor cannot take any measures against him as [Samuels] proposed," stressed Zacchiroli, while considering taking other steps "on 3 October in Nancy at the First Meeting of Inclusive French Cities."
In the context of the Wiesenthal Centre's partnership with ECCAR on monitoring antisemitism in Europe, the President noted Samuels' proposal to compile a list of municipal hatemongers across Europe, adding that "this will be discussed" with the Board of Directors at the end of September in Potsdam.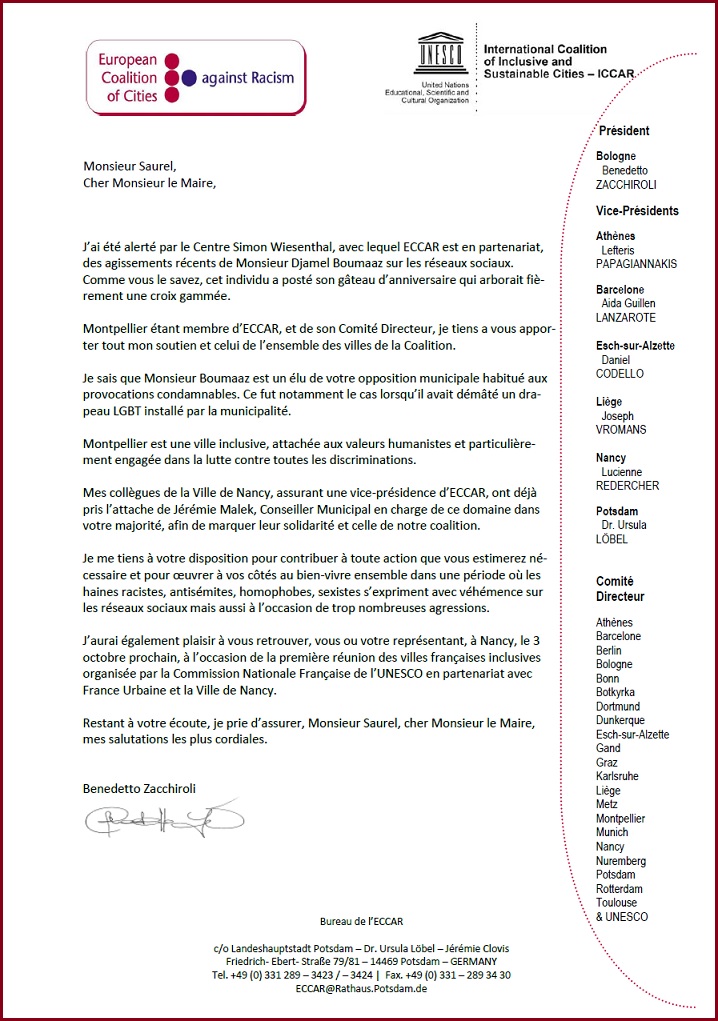 Official letter in French from ECCAR's President.
"I am at your disposition to contribute to any action you consider necessary, to work with you in building harmony in a period in which racist, antisemitic, homophobic and sexist hate are expressed with vehemence on social media, but also by all too numerous aggressions," concluded the ECCAR letter.