Edinburgh, 11 August 2017
In 2014, the Jerusalem Incubator Theatre, in a maelstrom of hate, was forced to leave the Edinburgh Festival without giving even one performance.
One man, Nigel Goodrich, created the "Shalom Festival at the Edinburgh Fringe" with one main objective: "to pursue justice in allowing 'the Incubator' to perform."
Despite demonstrations by pro-Palestinian hecklers held back by the police outside the premises and the consequent cost of security measures, the Shalom Festival – under the banner "Building Cultural Bridges, Celebrating Coexistence – brought together, among others, interfaith leaders, Christians United for Israel, Stand With US-UK, Israeli film screenings, theatre performances and hosted the Simon Wiesenthal Centre's UNESCO co-sponsored exhibition "People, Book, Land: the 3,500 Year Relationship of the Jewish People with the Holy Land."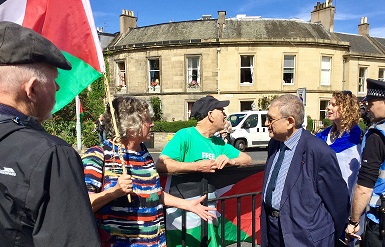 Shimon Samuels speaking with Pro-Palestinian demonstrators.
This year, the authorities were with us, led by Lord Provost Frank Ross, Mayor of Edinburgh, who eloquently welcomed the Simon Wiesenthal Centre congratulating its efforts to promote tolerance.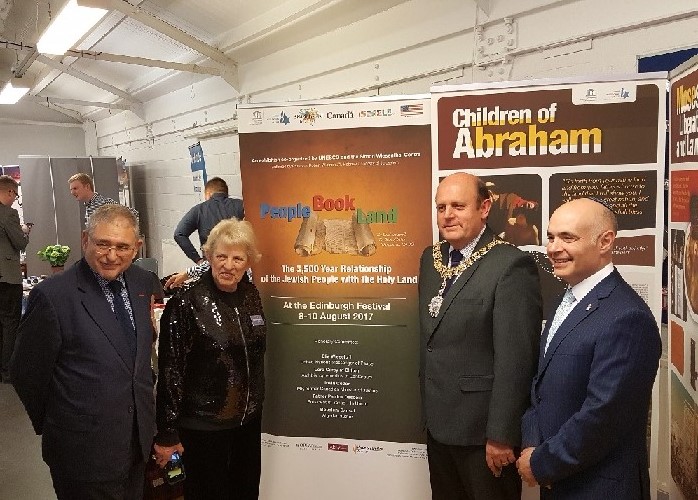 From left: Shimon Samuels, Joy Wolfe, Mayor of Edinburgh Frank Ross, Michael Friedman of the Israeli Embassy.
Samuels thanked Joy Wolfe, UK President of Stand With Us, for organizing an itinerary for the exhibition across the United Kingdom, especially during the centenary of the Balfour Declaration, adding, "where more appropriate to celebrate a narrative that marks the role of Lord Balfour than Edinburgh?"

Shimon Samuels at the podium.
Samuels presented the Lord Provost with an ancient Judean oil lamp as a memento of the occasion, "perhaps used 2000 years ago by a Jew who, in the darkness, reads a page of the Torah among the ruins of the Jewish Temple in Jerusalem, incinerated by the Romans" and now "may it illuminate your path in confronting challenges in this beautiful city of Edinburgh."
The Mayor praised the Wiesenthal exhibition as "a keynote event in the Festival."
"We hope that these 24 panels may help to engender mutual respect and acknowledgement for the heritage of each faith in the Holy Land as a vital step for peace," concluded Samuels.