Strasbourg, 23 October 2017
The 47 member-states Council of Europe is hosting the Simon Wiesenthal Centre's exhibition, "People, Book, Land: the 3,500 Year Relationship of the Jewish People with the Holy Land."
The inauguration was attended by the Ambassadors of the 42 States co-sponsors of the exhibition: Albania, Andorra, Armenia, Austria, Azerbaijan, Belgium, Bosnia Herzegovina, Bulgaria, Croatia, Cyprus, the Czech Republic, Denmark, Estonia, Finland, France, Georgia, Germany, Greece, Hungary, Iceland, Italy, Latvia, Liechtenstein, Lithuania, the Republic of Macedonia, Malta, the Republic of Moldova, Monaco, the Republic of Montenegro, the Netherlands, Norway, Portugal, Romania, Russia, San Marino, Serbia, Slovakia, Slovenia, Spain, Switzerland, Ukraine and the United Kingdom.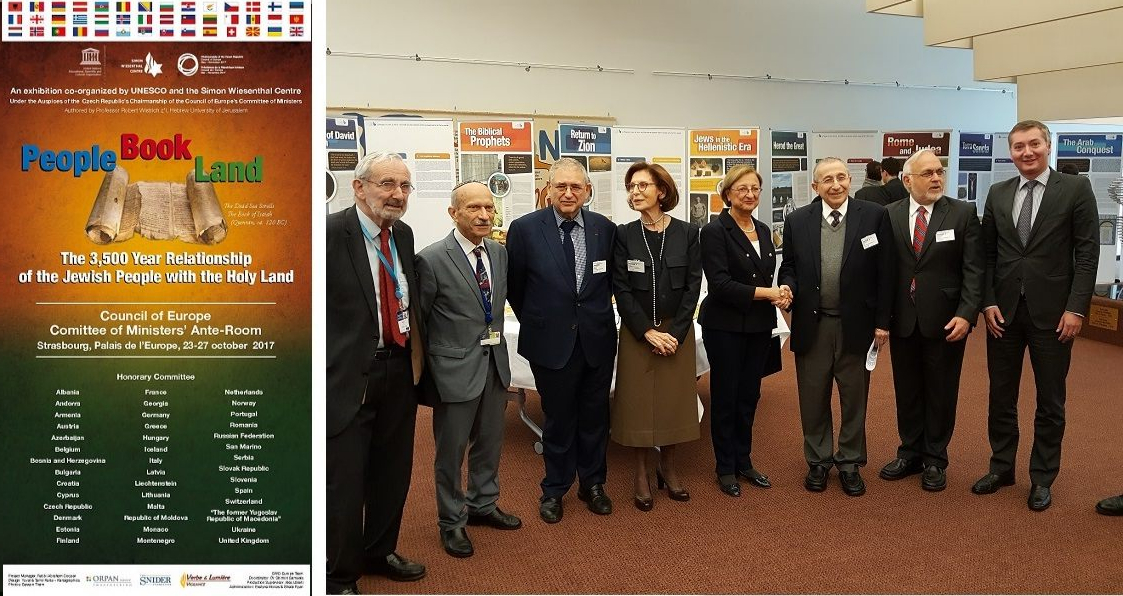 From left to right: Gilbert Roos, Honorary Council of Israel in Strasbourg, Salomon Levy President of B'nai B'rith, Dr. Shimon Samuels Director of International Relations Simon Wiesenthal Centre, Dr. Graciela Vaserman-Samuels UNESCO, Gabriella Battaini-Dragoni Deputy Secretary General of Council of Europe, Rabbi Marvin Hier Founder and Dean of the Wiesenthal Centre, Rabbi Abraham Cooper Associate Dean of the Wiesenthal Centre, Ambassador Emil Ruffer of Czech Republic and Chairman of the Committee of Ministers.
It was opened by the Council's Deputy Secretary-General Gabriella Battaini-Dragoni, who spoke of the Jewish contribution to the fabric of European life despite the horrors of the Holocaust and the importance of Europe's ties to Israel.
She was followed by the Czech Ambassador Emil Ruffer, in his capacity as Chairman of the Committee of Ministers. Both speakers focused on the exhibition's final panel entitled "A People of Hope."
The Centre's Director for International Relations Dr. Shimon Samuels, presented them with a 1st century Judean lamp, to symbolize the persistence of the Jews' return from every exile to their land. He also noted next week's centenary of the Balfour Declaration, which acknowledges the Jewish right to sovereignty in their "National Home."
Dr. Graciela Vaserman-Samuels represented the Director General of UNESCO, the exhibitor's co-organizer. Her message stressed the exhibition as "an invitation to discover the history of the Jewish people in the Holy Land… which had shaped the history of all humanity."
Rabbi Marvin Hier, Founder and Dean of the Wiesenthal Centre evoked the Prophets' transmission of their words to humanity emanating only from Jerusalem and the Holy Land.
Rabbi Abraham Cooper, Associate Dean and Global Action Director, recounted the exhibition's worldwide itinerary in his vote of thanks. Several Ambassadors offered their cooperation for its future display in their home capitals.
Samuels stressed "the freeing of slaves by Moses, the seventh day of rest, the role of the Prophet to temper the power of the monarch, as precursors for the rule of law and the values enunciated by the Council of Europe."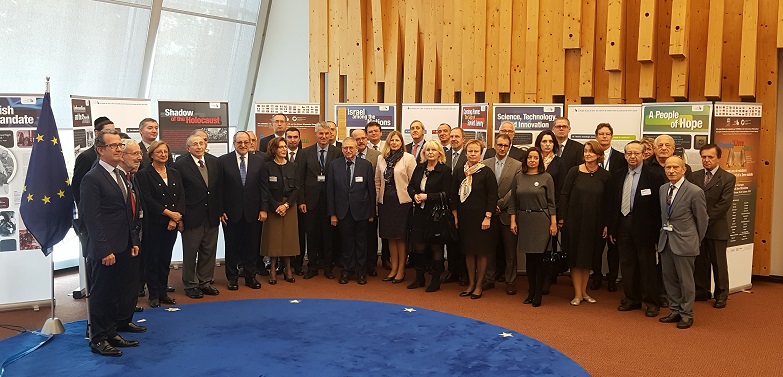 The Speakers and Ambassadors of 42 member-states of the Council of Europe.