Copenhagen, 24 June 2016
The Wiesenthal Centre sponsored Exhibition, "People, Book, Land: The 3,500 Year Relationship of the Jewish People with the Holy Land" this week ended its display in the medieval town hall of Copenhagen.
Following its Paris UNESCO launch in June 2014, the Exhibition was shown in at New York UN headquarters, the U.S. Congress, the Israeli Knesset (Parliament), the Vatican, Montenegro and Albania.
The Scandinavian premiere opened in Copenhagen on 6 June as an initiative of a consortium of Danish Christian groups in support of the State of Israel.
Led by Yvette Espersen, the launch was attended by 200 invitees, including inter-faith leaders, politicians, cultural figures and diplomats representing 17 countries, Albania, Argentina, Armenia, Austria, Brazil, Canada, Cyprus, Georgia, Germany, Hungary, Israel, Italy, Nepal, Romania, Serbia, Slovenia and Turkey.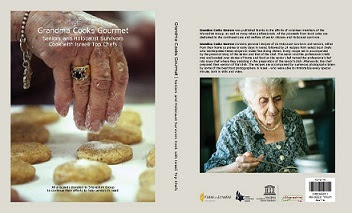 Opened by Simon Wiesenthal Centre Associate Dean Rabbi Abraham Cooper, the guests were addressed by Danish Minister of Culture and Church Affairs Bertel Haarder, Mayor Ninna Thomsen, Chief Rabbi Yair Melchior, Israeli Ambassador Barukh Binah.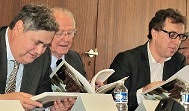 L to R : Minister Haarder, Dr. Samuels, Ms. Espersen, Rabbi Cooper, Ambassador Binah, Chief Rabbi Melchior, Mayor Thomsen. Photo Hasse Ferrold
The Centre's Director for International Relations Dr. Shimon Samuels, presented the Copenhagen Exhibition organizer Yvette Espersen with a 3rd century lamp from the Land of Israel.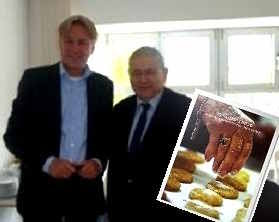 Photo Hasse Ferrold
During the two week display, the Exhibition was visited by over 2,000, predominantly school students and also many tourists due to the Town Hall's proximity to the famous Tivoli Gardens. The Visitor's Book is replete with expressions of amazement that the Jewish narrative is so little known.The Danish Christian groups are now working with their peers in Scandinavia and the Nordic countries to establish an itinerary for the Exhibition as a response to campaigns in the region to delegitimize Israel and deny the heritage of the Jewish people.