"I salute the Simon Wiesenthal Centre representatives and assure them that they have the support of Paris in their precious work", Deputy Mayor of Paris.
For Immediate Release
Paris, 22 September
At 11am on 20 September - the 11th anniversary of Simon Wiesenthal's death - the City of Paris inaugurated Simon and Cyla Wiesenthal Square, in the presence of their daughter, Paulinka Wiesenthal-Kreisberg and her family. They were joined by some 120 survivors, resistance fighters, city officials, diplomats, religious and community leaders, and members of the Simon Wiesenthal Centre-Europe.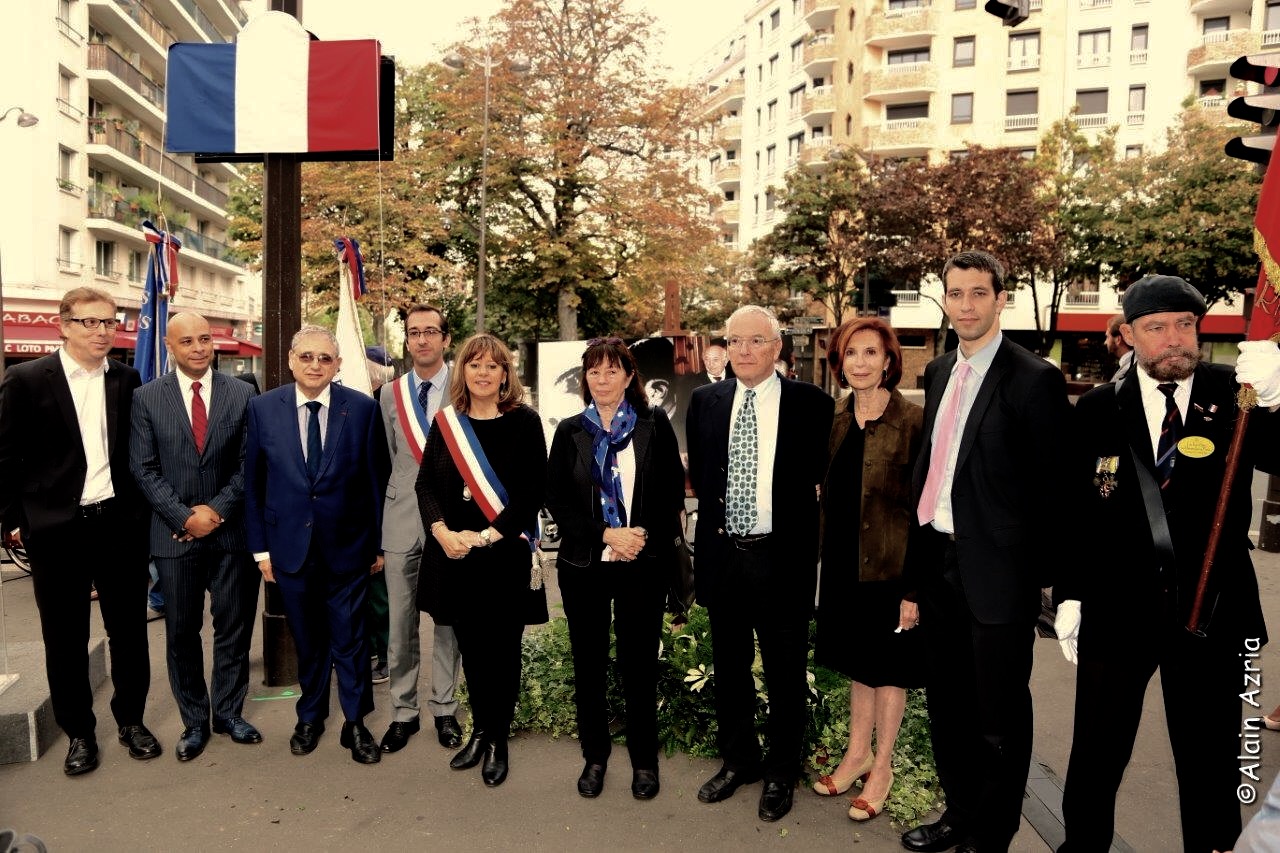 Left to right: SWC President Richard Odier, Andre Rakoto of National Bureau of War Victims, Shimon Samuels, District Mayor Remi Feraud, Paris Deputy Mayor Catherine Vieu-Charier, Mrs. and Mr. Wiesenthal-Kreisberg, Graciela Samuels, Israel Embassy Attache Ido Bromberg, Resistance Banner Bearer Ilan Shulman.
The Simon and Cyla Wiesenthal Square was inaugurated in the 10th District of Paris. The gathering was addressed by 10th District Mayor Remi Feraud, Deputy Mayor of Paris Catherine Vieu-Charier and Wiesenthal Centre Director for International Relations Dr. Shimon Samuels.
Special commendation was made by the Centre's French President, Richard Odier for "the bipartisan role played by Paris Mayor Anne Hidalgo and City Councillor Parliamentarian Nathalie Kosciusko-Morizet in organizing this tribute Simon and Cyla Wiesental" The plaque reads: Simon and Cyla Wiesenthal To the memory of Simon Wiesenthal (1908-2005) who consecrated his life to bringing Nazi war criminals to justice and his spouse, Cyla (1908-2003) who devoted herself to the achievement of that mission.
Unveiling of the plaque
Messages:
Remi Feraud, Mayor of the 10th district of Paris:
"The 10th district paid a heavy price to Nazi barbarism and deportation.
Many hidden children found refuge here... We have strived to keep the memory, especially for the young..."
"The Wiesenthals' full commitment to tracking down the criminals awakened consciousness to broken lives and destiny. It required solid courage and conviction to take on that pursuit, when most of the world wished to turn away... For long years, the Shoah interested nobody."
[The Wiesenthals] "endorsed the creation of the Simon Wiesenthal Centre, comprising 400,000 members participating in the struggle against antisemitism, racism and memory of the Shoah, but also the Armenian and Rwanda Tutsi genocides. Today brings pride to our district."
-------------------------------------------
Deputy Mayor of Paris Catherine Vieu-Charier:
"More than 70 years after the horror, women, men and their children continue to be stigmatised and murdered in the name of a criminal and paranoid ideology, as Jews only because they are Jews... and just because they wish to live together in peace and freedom".
"The odious and criminal acts in Paris last year were precisely aimed to strike at the capital's identity... we must act for those human rights so dearly acquired and always place reason above fanaticism, of whatever type and where ever it emerges."
"The Simon Wiesenthal Centre has made this its vocation, its very purpose. I salute their representatives present...and assure them that they have the support of Paris in their precious work..."
"To inscribe the names of Simon and Cyla Wiesenthal in the Paris domain is to indelibly engrave in our collective memory what they represented.. commitment and combat to inspire us to confront the challenges of our time... Without fail, Simon and Cyla have marked history... May their combat for justice continue to illuminate the future of our democracies."
------------------------------------------------------
Dr. Shimon Samuels:
"Today, 20 September marks the 11th anniversary of Simon Wiesenthal's passing."
"I had the privilege of working with Simon for almost 20 years...
When I told him in 1988 that the European seat of our Centre would open in Paris, he asked why Paris?... I explained that this city would be the hub for our work on the Continent, with the largest Jewish and Muslim communities... Sadly, today, France is a victim of antisemitic terrorism which has degenerated into a threat for all. This confirms Simon's axiom that "what begins with the Jews never ends with them'".
"Simon survived 6 death camps with a very clear objective: to seek justice. On his liberation he sought his wife, Cyla - his childhood sweetheart - who had survived miraculously in hiding. Between them, they had lost 89 family members. Their victory over Nazism came with the birth of their daughter Paulinka."
"Simon had two characteristics which eased the pain of his mission:
- his acerbic sense of humour
- his love and belief in youth as the hope for a better future.
He even accepted an invitation from the German far right student movement Teutonia, to address them at a Bavarian university. The President introduced him as 'Herr Wiesenthal, who eats a Nazi for breakfast, his second for lunch and a third...'. Simon put his hand on the young President's arm saying indignantly but with humour: 'Unmoglich, Unglaublich - impossible, unthinkable - my religion forbids me to eat schweinfleisch - pig meat'.
"I believe he was happiest when with young people, as I remember him sitting in our apartment with our daughters' classmates clustered adoringly around his feet".
"Towards the end of his life he was crushed to see the recrudescence of antisemitism in Europe... He told me that he wished for his wife and himself to be buried in Israel to prevent the desecration of their graves if in Europe".
"I often ask young people if they knew who was Simon Wiesenthal? Eleven years since his death, it is rare to find a knowledgeable answer".
"Simon had many friends in France... On his visits he would be surrounded by resistance fighters such as Marie Madeline Fourcade and other heros... almost all have left us".
"Paris, in honouring Simon and Cyla with this Square, is honouring that generation who sacrificed all for the values we now take for granted. I hope that young people will be brought to this Square by their teachers to have them 'Google' Simon, Cyla and their French comrades to understand why they deserve to be commemorated... Our presence here today is a first step in proactive memory".