"The Tsarist Russia forged claim of a Jewish conspiracy for global domination, 'The Protocols of the Elders of Zion', was highlighted at the 2015 Sharjah International Book Fair (SIBF)."
Frankfurt, 19 October 2016
In a letter to UNESCO Director-General, Irina Bokova, the Simon Wiesenthal Centre Director for International Relations, Dr. Shimon Samuels, expressed surprise that "UNESCO had accepted to be the Honoured Guest of the 2016 Sharjah International Book Fair (SIBF) opening on 2 November."
http://gulfnews.com/news/uae/culture/unesco-to-be-guest-of-honour-at-sharjah-book-fair-1.1908952
Samuels, currently attending the Frankfurt Book Fair, explained that "The Simon Wiesenthal Centre annually monitors hate on the shelves of six Arab Book Fairs and at Frankfurt in cooperation with the latter authorities. These included Sharjah and its other United Arab Emirates neighbours."
Shimon Samuels at the Sharjah Stand
The letter lamented that "the Tsarist Russia forged claim of a Jewish conspiracy for global domination, 'The Protocols of the Elders of Zion', was highlighted at the 2015 Sharjah International Book Fair (SIBF)," adding, "What has become known as a 'warrant for genocide' and a 'a catalyst for the Holocaust' was published by Dar Ruslan and featured in multiple copies on the Syria stand #A6 as one of the publishers displaying the Protocols. Our attached photos identify these books within a red rectangle."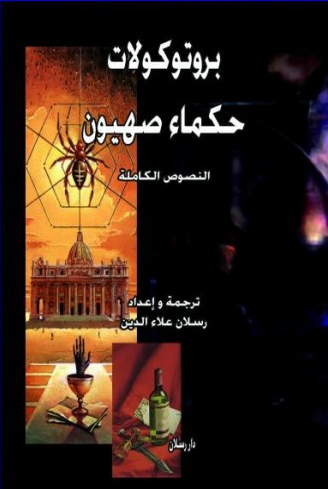 Cover of the "Protocols of the Elders of Zion"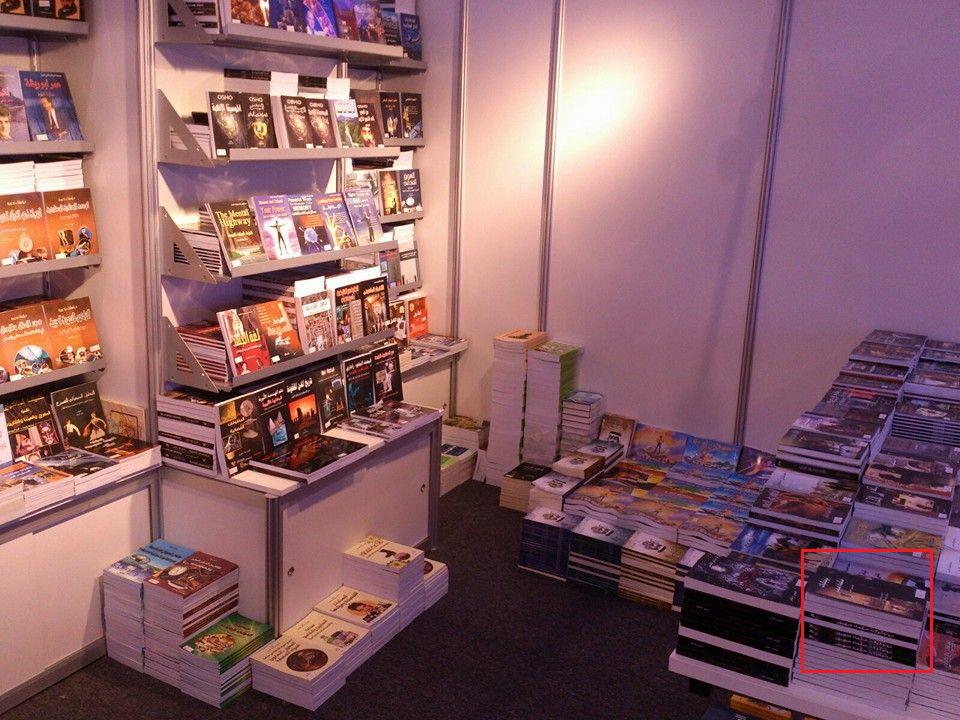 Samuels stressed that "this was not an isolated example related to the 'Protocols'. The SIBF 2015 honoured guest was Egyptian actor, Mohammed Sobhy, who was co-writer and actor of a 30-part mini-series called 'Horseman Without a Horse', based on the 'The Protocols of Zion'. Televised each year on Ramadan throughout the Arab world, this poisonous series has reinforced antisemitic stereotypes more than any other production.
Source: Simon Wiesenthal Center
http://www.wiesenthal.com/site/apps/nlnet/content2.aspx?c=lsKWLbPJLnF&b=4441475&ct=5852841#.WAc3A7WYrhF
"Famous Egyptian actor and comedian Mohamed Sobhy will be appearing at the Sharjah International Book Fair (SIBF) 2015.
Ahmed bin Rakkad Al Ameri, Chairman of Sharjah Book Authority (SBA), and Director of Sharjah Book Fair, said, 'Mohamed Sobhy is one of the most well-known artists and intellectuals, who has a lot to say about the cultural, social issues experienced by the Arab world. We are looking forward to hosting Sobhy at the fair and to hearing him share his vision about the Arab cultural scene with us, particularly how to counter dark and destructive ideology, as well as the possible ways of promoting the intellectual and cultural awareness of Arabic people.
On his journey to stardom, Sobhy appeared in dozens of stage plays, movies and TV programmes, most notably in dramas; 'Mama America', 'Bel Arabi Al Faseeh' (In Classic Arabia) and 'Takhareef' (Tales). On the silver screen Sobhy starred in 'Agent No.13', 'Al Jareeh' 'The Wounded' and 'Money and Monsters'. Sobhy's popular TV series' are 'Shamlool' (Smartass) 'Faares Bela Jawad' (A knight without a horse) and 'Ayesh Fi Al Ghaybooba' (Living in Coma).
Source: SIBF
http://www.sharjahbookfair.com/en/newsdetails/400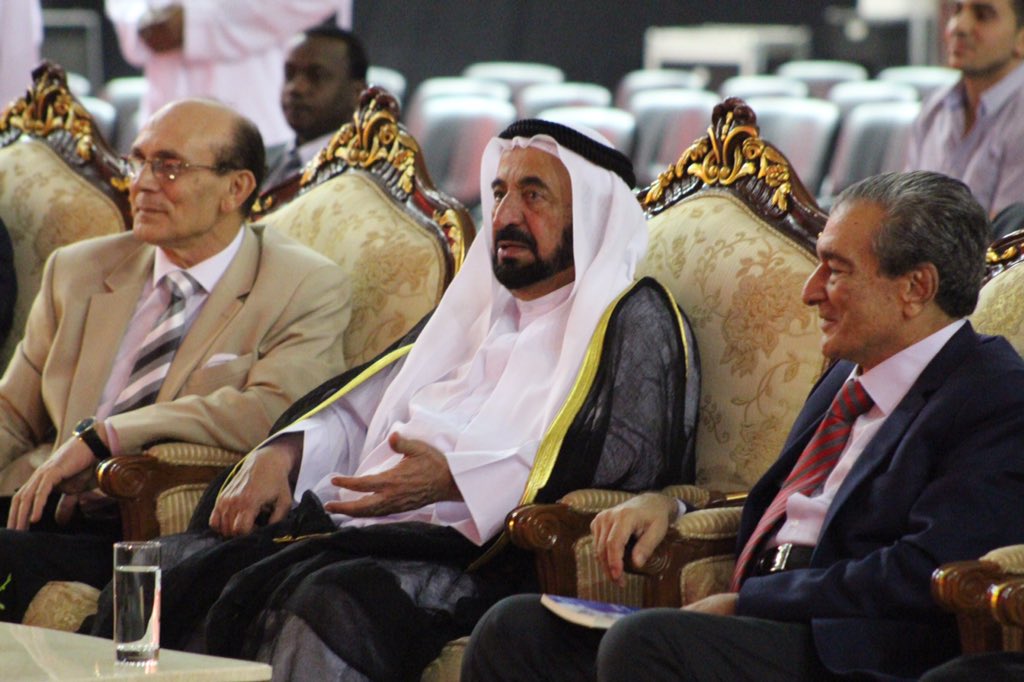 Sobhy seated to the left of the Emir of Sharjah (November 5, 2015)
Source: SIBF Twitter
Here is what the Ruler of Sharjah, ironically, had to say about SIBF 2015:
'In his keynote speech, Dr Shaikh Sultan said 'the book is the light against ignorance'. He added that all books are welcome at SIBF as long as they don't preach hate against anyone.'
The Wiesenthal Centre likewise protested the co-sponsorship of the 2015 SIBF by The American Library Association.
"Madam Director-General, you have often spoken out against antisemitism. We urge you to disassociate UNESCO from what is likely to be yet another hatefest and, thereby, prevent any possible perception of UNESCO appearing to endorse antisemitism," concluded Samuels.